Internet of things projects are the best to learn about skills necessary to build IoT applications that can actually be deployed. To start with any internet of things platform first of all you will need a platform. What better to get started than Raspberry Pi.
There are hundreds of reasons why you should built your internet of things application on this platform. The major reason is freedom of open source community and excellent community support.
Pi for Space
If you are into rockets and love to see flying objects then this is a Raspberry Pi IoT project that is definitely for you. Called the Pi in the Sky this board comes with an inbuilt GPS and RF transmitting module. You get to make choice whether you want to construct the hardware on your own or want to keep things clean. An add-on board is available if you don't want to get into complications.
With this board you can track the altitude and landing spot of your model rocket as well as temperature if you like.
Explore Project
Humidity Sensor
One of the basic applications of using Raspberry Pi is to be able to make things augmented. The Humidity and Temperature Sensor provides you exactly the same information. There are times when you want to know whether your hardware is protected from extreme temperatures and humidity. This is the project just for you. You can mount it anywhere you want to keep a check on temperature and humidity and connect it to Raspberry Pi Web Server.
That's it! With this project you will learn about networking protocols and working of sensors.
Explore Project
Raspberry Pi Web Server
We just used the term Web Server in the above project and here we are with the details. Raspberry Pi Web Server is an excellent IoT project to learn about developing a centralized hub of sensors and devices. These boards are very good at acting as central controlling units for small scale controllers like Arduino.
To build a server all you will need is a Raspberry board with a Linux OS sitting on it and loaded Apache Web server. There are many web protocols that provide an efficient mechanism to collect data from these servers. To learn more you can build projects like Humidity Sensor previously discussed and make it communicate data with your web server.
Explore Project
The Pirate Box
Security is one of the most discussed issues related to internet of things applications. Public web servers pose risk of data snooping or privacy compromise. It is generally a good move to keep IoT related app data separate from other web traffic making use of private networks.
The Pirate Box is exactly this private network. Making use of private Wi-Fi networks and torrent protocols, a Pirate Box communicates securely among computers. You get to learn about setting up private networks and using high level protocols in this project.
Explore Project
SoftSynth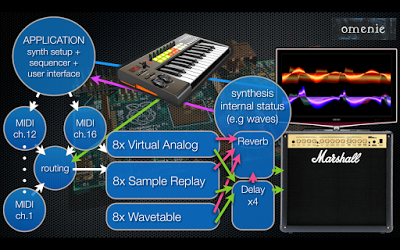 Combining sensors, switches and digital-to-analog converters, the SoftSync is a very interesting and education Raspberry Pi internet of things project. In real like IoT applications you will definitely come across projects that will require digital to analog or analog to digital interfacing. This project is best to learn about the insights of interface.
Explore Project
Makey Makey IoT
Touch screens are everywhere these days and not surprise that most of the IoT devices are also making use of display sensors. But what if you can convert any physical object into an input sensor? This is exactly what Makey Makey does.
If you are building a Raspberry Pi based IoT project then combine it will Makey Makey to make it even more interesting.
Related: Makey Makey IoT
Explore Project
Dog Treat Dispensing Robot
Everyone loves a puppy and this project developer took his love to a whole new level. In this project you will learn a lot about servos that make things move in a big way. Also a profound knowledge of switches will also be shared. Embedded system project enthusiasts should look into this project.
The Dog Treat Dispensing Robot works on IoT based protocols to treat your puppy.
Explore Project
Robo Photo Dolly
Robo Photo Dolly is a Raspberry Pi IoT project that enables you to capture high end photographs using camera remotely or automatically.
This project helps you learn how to make synchronized working of lot of things in project. A dolly helps you learn about motor, external device control and precise timing. The hardware used in this project is minimalistic but you get extremely beautiful shots.
Explore Project
Raspberry Pi IoT Project Video
These are the best internet of things projects to learn about Raspberry Pi and IoT together. We did our best to bring up the best projects but if you think we missed on any important do mention it in the comments below.
[td_smart_list_end]
Don't forget to view introductory Raspberry Pi IoT Project Video at last